5 Tips To Protect Your Marietta Home From Storm Damage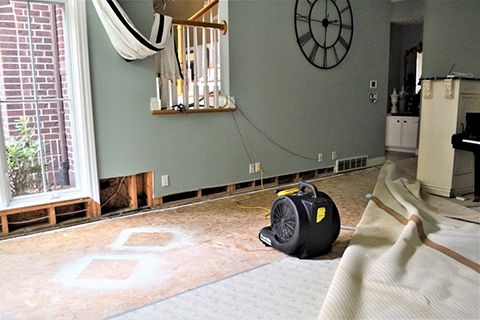 Residential storm damage is a primary concern for most homeowners. Although Marietta, Georgia is an inland city with less risk, strong storms can still feed off the warm coast and sweep across Georgia, causing flooding and destruction.
If you're new to storm preparation, you've likely already learned that outside preparation is crucial to protecting your home. But what about inside prep? We'll outline 5 tips for fortifying the inside of your home, protecting it as much as possible from storm damage.
Make Sure Your Windows and Doors Are Sealed
Windows and doors are the main points of entry for high winds and rainwater, so it's important to seal them up as best as possible. If you have older windows and want to avoid the hassle of boarding up, consider investing in hefty storm proof windows. You can also use heavy-duty plastic sheeting to cover windows and doorways, making sure to tape the seams securely.
If your windows and doors are prone to letting in air and aren't properly sealed, now is the time to repair them. Caulking and weatherstripping can make a big difference in keeping your home protected.
Unplug All Essential Electronics
A huge risk during forceful storms is power surges, or when an electrical current suddenly becomes too strong. This can happen when high winds or lightning disrupt power lines, causing a sudden jolt of electricity that can damage your electronics.
To protect your computer, television, and other electronics from power surges, unplug them from outlets and store them in a safe place off the ground (in case of flooding). A severe power surge can also cause fires, so make sure you have a fire extinguisher on hand.
Fill Up Your Bathtub
While most people worry about power outages, serious storms can also disrupt local water supply and access to clean water, sometimes for weeks. It's crucial to fill up your bathtub and any other clean containers you have with water before the storm hits, even if you already invested in plenty of water bottles. If you don't have access to clean water, you can use the water you saved for hygienic needs until help arrives.
Aim to have several gallons of water per person in your household, stored in clean containers. Emergency experts recommend storing one gallon per person per 24 hours. Water is one of the first necessities to fly off the shelves when a powerful storm is on its way, so try to gradually add to your water storage as part of your preparation process.
Elevate and Protect Important Documents
When there's a threat of heavy rain in the forecast, you'll want to make sure your important documents are protected from any potential flooding. If your home does sustain water damage, these documents will be ruined if they're not properly protected. Keep all paper documents in a sealed Ziploc stored off the floor.
Some documents that should be carefully stored from potential threats include your birth certificate, social security card, homeowners insurance policy, and driver's license. It's a good idea to scan these documents and keep them saved electronically so you can access them even if the physical copies are damaged.
Leave Your Garage Door Closed
When you're made aware that a strong storm is on its way, it's best to take all of the necessary precautions to protect your home, including keeping the garage door closed for the full duration of the storm. If the garage door is open, water can easily enter and cause damage to whatever is inside. If the garage is used to store supplies or tools, these items could be damaged or ruined in a storm if they're left out in the open.
Contact the Marietta Storm Damage Experts: Integrity Restoration and Remodeling
If your home sustains significant damage from any weather related storm, Integrity Restoration and Remodeling can help! Sometimes after all the preparation possible, damage still occurs. Thankfully our expert team is here to help your home fully recover.
Contact us at (770) 966-9987 for more information about our storm damage repair services!